DraftKings Review
updated 02.04.2020
Sportsbook info
Language version:
ENG
?
Mobile app
Review
Web-site:https://sportsbook.draftkings.com/
Established: 2018
Licenced: New Jersey Division of Gaming Enforcement, Pennsylvania Gaming Control Board, Indiana Gaming Commission and West Virginia Lottery.
DraftKings Sportsbook is an official Daily Fantasy sports partner launched in 2018 that offers immersive sports entertainment experience allowing players to engage in betting on major U.S. and international sports.
Is Draftkings legal and safe?
Draftkings Sportsbook was an idea of Jason Robins, Paul Liberman and Matt Kalish who were friends and coworkers with a deep love for fantasy sports. To them, season-long fantasy was great but daily fantasy could be better. Soon they became DraftKings Sportsbook cofounders. Within a few years, DraftKings, a company they launched in a spare bedroom in Paul's Watertown, Massachusetts apartment became an internationally known brand that was on its way to revolutionizing how fans engaged with sports.
Daily fantasy sports launched in 2012 and since then, DraftKings has grown very fast offering an immersive sports entertainment experience.
In 2018, Draftkings Sportsbook became the first legal mobile and online sports betting platform to launch in New Jersey. It now operates in Colorado, Indiana,Iowa, Mississippi, New Hampshire, New Jersey, New York, Pennsylvania and West Virginia.
DraftKings legal status by state
Draftkings Sportsbook is regulated and licensed by the New Jersey Division of Gaming Enforcement in accordance with the Casino Control Act. Additionally, it provides games that are tested, fair and operate correctly as per the implementing regulations. This makes the sporting website 100% legal and safe to use.
Based on the eligibility of DraftKings Sportsbook, there are key requirements that individuals should meet in order to participate in the contests and winning prizes offered by the website. These requirements include the following;
In territories, locations or jurisdiction where the permissible use of the website is greater than 18 years (eighteen), you must meet the age requirement in your local territory, locations or jurisdiction.

Legal residents of Nebraska or Alabama should at least be 19 years (nineteen) of age at the time of account creation.

Legal residents of Iowa or Massachusetts should be 21 years (twenty-one) of age.

Legal residents physically located in any of the 50 (fifty) states and Washington DC excluding Arizona, Hawaii, Idaho, Louisiana, Montana and Nevada are eligible to open an account and take part in the contests offered by DraftKings Sportsbook.

Legal residents of Arizona, Hawaii, Idaho, Louisiana, Montana and Nevada are allowed to open and maintain Draftkings accounts for use in games that do not offer prizes. However, legal residents of Idaho that are physically located outside the mentioned states are eligible to deposit funds, participate in contests and earn prizes offered by the website.

Legal residents based in Canada as well satisfy the necessary conditions to open accounts in Draftkings Sportsbook and participate in contests from the website.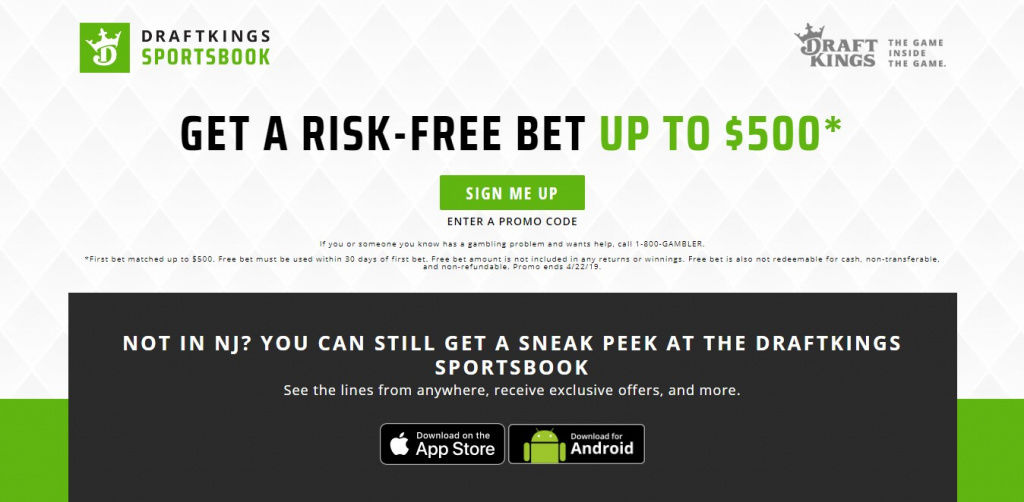 DraftKings Sports Betting Lines
If you are passionate about contesting and winning prices, you can choose your favorite sport from the list below
Live betting and live streaming
Draftkings Sportsbook is a safe and secure sports betting platform that offers live bets on all major sports and leagues. Draftkings will easily get your feet wet while enjoying the experience as you react to the game in real-time using dynamic odds, scores and visuals.
All you need to do to quench your betting thirst is to spin up an online account or download the DraftKings Sportsbook app available on Mobile and Desktop in Colorado, Indiana, Iowa, Mississippi, New Hampshire, New Jersey, New York, Pennsylvania and West Virginia. Secondly, scout your sport, league and outcome. Having followed the two steps, place your bet either live or in real-time and follow the games.
Creating a new account at Draftkings Sportsbook
Draftkings Sportsbook draws you closer to your favorite games than ever before. With the optimized (UI) User Interface, signing up to DraftKings Sportsbook is easy. All you have to do is to sign up by filling in your credentials correctly, entering the promo code (optional) and agreeing to the terms of service. Thereafter, proceed to verifying your information, securing your account then confirm your location. Having done that, you can be part of the contesting and winning squad in Draftkings Sportsbook arena.
Draftkings Sportsbook bonuses
Welcome bonus: up to $1,000
First deposit bonus: minimum $500
Daily offers: ✓
Rolling bonuses: ✓
Do you need a bonus or a promo code for Draftkings Sportsbook
There is no need to use the Promo code. All you have to do is sign up at www.draftkings.com to create an account and claim your free bonus offer. As usual, Terms and Conditions apply. You need to be over 21 (twenty-one) years and a resident in West Virginia, Indiana, New Jersey and Pennsylvania to access the offer.
In addition, you are qualified for a bonus of up to $50 when you refer to a friend.
Are there odds boosts available?
Yes. Each week, DraftKings Sportsbook releases Odds Boosts that apply to specific bets and present the opportunity to place a bet with more advantageous odds.
Draftkings Loyalty Program
DraftKings Sportsbook has a new limited-time loyalty program for selected DraftKings Sportsbook and Casino VIPs. During the program Term, qualified players earn points for each full dollar spent on applicable games in the DraftKings Sportsbook web.
After the accumulation of points, you are expected to redeem them in exchange for rewards such as:
Entry to a freeroll contest in which the winner will receive tickets to the professional football championship game.

Tickets to professional football game tickets

Attendance at the Draftkings kickoff Bash Event

Free bets

Exciting entertainment tech

Draftkings merchandise

Daily Fantasy Sports Contest Entries.
In addition, prizes available for redemption are listed in the URL draftkings.com/rewardsblitz. Points may as well be accumulated according to the below equivalences:
Game

Points per full dollar played

Video or Tables Poker

5

Slots

50

Straight Bets

50

2-Leg Parlay

75
Mobile Betting and Site Usability
iOS app: ✓
Android app: ✓
DraftKings Sportsbook apps are available in both iOS and Android. With millions of players across the globe, DraftKings Sportsbook opts to be the best for wagers in the United States.
With that in mind, follow the detailed guide and get the applications on your Android or iPhone and iPad.
For Android:
Log into https://sportsbook.draftkings.com and create your player account

Head on to the main menu and press Help

At the top of the screen, press the green Download Now button

Tap Download for Android button and press ok to keep the DraftKings APK or dksportsbook.apk

After the download, press open and Install

Open the app to log in and browse the market.
For the iPhone and iPad:
Head on to https://sportsbook.draftkings.com and create an account

Click on the main menu and press Help

Tap the Download for iPhone button

Visit iTunes, press GET to install the app.
For further help in downloading DraftKings Sportsbook apps, the website provides tutorials on YouTube.
Casino Games/Poker/Fantasy
Poker:✓
Casino:✓
Fantasy leagues: ✓
DraftKings Casino games bring fun and entertainment from the casino floor to the palm of your hand. You can now play and engage in a complete list of top online casino games either from your IOS or Android device anywhere in New Jersey.
It only takes a few clicks of buttons to step into action. Follow the steps below for both IOS and Android:
Download the DraftKings Sportsbook Application

At the top, find the "casino" tab

Choose your best game from our top casino games like video poker, slots, live dealer and overwhelm yourself with fan.
To keep you entertained, Draftkings Sportsbook launches new games all the time. So, your playing options will never stale.
Benefits for experienced bettors
DraftKings Sportsbook offers a modern functional application that is easy to navigate. In terms of breadth and depth, it perhaps offers the widest betting range to its experienced bettors.
The sporting website offers a unique style of play like Supercontest style game, online casino, live cash out options and sportsbook pools.
Sportsbook offers an app for iOS and Android that offers a variety of options in the single app across all states.
Benefits for casual bettors
DraftKings Sportsbook has made work easier for the newbies. They have done a tremendous job with the look, feel, usability and app navigation making it fast and so simple to use.
Anything done on the normal site can be done from the cell phone too as the app does blow the competition out of the water.
What is Draftkings Sportsbook currently missing
The world has been taken over by technology. Currently, every website strives to improve their services and DraftKings Sportsbook is not an exception. When NJ Sportsbook app is compared to those available in Europe, more focus is laid in-game visuals and stats to ease understanding of what's going on in the game. It is better and easier to see what is happening to aid in placing bets.
With stats on selected games, a live visual of what is going on would be far much better. In some instances, people claim the app is laggy or slow. To solve the problem, ensure your device has a WIFI hook up and good coverage.
Pros & Cons
Pros:
24/7 Customer Support

Reward and Services

Featured Casino
Cons:
Complicated rewards system

Limited sports choice

Can be difficult to win against experienced players
Read full review
Hide
Expert reviews
"Since its debut, DraftKings NJ sportsbook leads the way in the market, topping even venerable sportsbook sites such as William Hill and playMGM…"
"DraftKings Sportsbook is the leading daily fantasy sports site in the US and worldwide, offering large payouts and an intuitive interface…"
"From day one, DraftKings Sportsbook covered mainstream and niche sports alike with a wide range of wagers…"
"As the first in market, DraftKings has a strong following…"
NJ Gambling Sites Draftkings
"DraftKings Sportsbook is worthy of a high score…"
NJ Gambling Websites DraftKings
"DraftKings Sportsbook has quickly proven that success in one industry can certainly lead to success in another…"
"DraftKings Sportsbook was the first NJ online sports betting app, and it remains one of the best…"
"DraftKings is currently the one of the best online sportsbooks in New Jersey…"
"DraftKings is unquestionably one of the best sports betting sites…"
Crossing Broad DraftKings
"DraftKings layout is very user friendly and allows both sports betting veterans and rookies alike to easily find what they are looking for…"
FAQ
No results were found for your request :(
Also ask
Can I play the DraftKings Casino in my state?
In which states is DraftKings Sportsbook legal in?
Does DraftKings Sportsbook have a functional app?
At what age can I start gambling online?
Can I play the DraftKings Casino in my state?
DraftKings Casino games are only made available in New Jersey at the moment.
In which states is DraftKings Sportsbook legal in?
DraftKings Sportsbook is legal in New Jersey (NJ), Indiana (IN), Pennsylvania (PA) and West Virginia (WV).
Does DraftKings Sportsbook have a functional app?
At what age can I start gambling online?
At the age of 21 and over, you are allowed to gamble online with a regulated online operator.
Which withdrawal options can I use?
Withdrawals are processed through a check, ACH, PayPal and cage pick up.
Why do operators have welcome offers or free bonuses?
Online gambling is competitive. Sportsbooks and Casinos will offer bonuses to get you to join with the hope you will enjoy and continue playing there in the future.
I have a DraftKings fantasy account, can I use it to bet on Sportsbook?
In order to comply with betting regulations, users with fantasy accounts must verify and meet eligibility requirements before being permitted to bet on Sportsbook.
Are there any tutorials for Sports betting?
Yes. The majority of the operators provide a "how to bet" in their mobile, app or website. A look in the main menu or footer for a "how to bet' guide will help start your journey in online gambling.
How do I tell I am in a regulated state?
Online operators use locating software such as Geofencing or Geolocation to pinpoint your location. This is the case in all states. You are required to have it allowed on your cell phone to locate where you are.
How do I fund my Sportsbook account?
There are multiple ways of funding your Sportsbook account. Visit the Deposit Page to make a deposit or to have a look at your available options.
All Frequently Asked Questions
Hide
Reference Information
Web-site:
https://sportsbook.draftkings.com/
Licenced by:
New Jersey Division of Gaming Enforcement, Pennsylvania Gaming Control Board, Indiana Gaming Commission and West Virginia Lottery.