Caesars Review
updated 01.04.2020
Sportsbook info
Language version:
ENG
?
Mobile app
Review
Web-site: www.caesarscasino.com/sports/
Established: 2018
Licensed by: New Jersey Division of Gaming Enforcement
Caesarscasino.com is an online sportsbook owned by Caesars Interactive Entertainment, Inc. headquartered in Caesars, Atlantic city, 2100 pacific Avenue Atlantic City, NJ08401. In September 2018, Caesars Casino online launched a sports betting app in New Jersey.
Is Caesars legal and safe?
Caesar Casino is licensed and approved by the state of New Jersey in online gaming for real money. You can play the game as long as you are 21 years old and above and within the boundaries of the state of New Jersey. Caesars is powered by NYX Gaming Group. The security is ensured by SSL encryption technology and firewalls.
Caesars sportsbook provides strong authentication for players who are looking for an extra level of protection. You will get an email with a text code each time you log into the account.
Caesars Casino legal status by state
Caesars Casino is licensed in the state of New Jersey.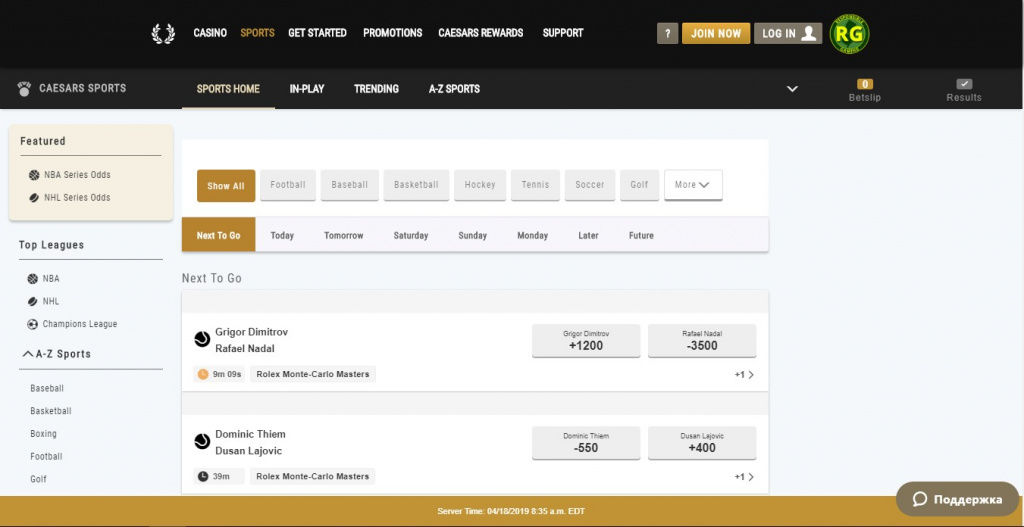 Caesars Sports Betting Lines
First thing you'll notice entering the bookie's website is a very tight selection of sports. Like any other American bookmaker, Caesars focuses on NBA, NHL, NFL, MLB, and college sports. It also covers boxing, golf, motor racing, tennis, soccer (only MLS, Champions League, Europa League, EPL, Bundesliga, Serie A, Ligue 1), and that's it. Okay, it meets the key interests of American bettors. But in 2019 it's a bit weird to see a bookie with such a little assortment.
The number of available betting options doesn't impress much either. Players can choose among traditional moneylines, totals, point spreads, teasers, futures, parlays, and round-robins. Betting odds are solid (but you can find better pricing somewhere else), the minimal wager limit is $0.01. What is really bad is that Caesars bookmaker doesn't support live betting.
The range of markets is narrow compared to any other NJ bookie. And it's a disaster when compared with DraftKings or SugarHouse.
The cash-out option isn't available as well, by the way.
Caesars live betting
Live betting is currently available in the In-Play bets section of the web-site. When a game is being played, bettors can find all of the wagers available for this match by clicking on it.
Creating a new account at Caesars
Creating an account is easy and comprehensive. When you open the homepage, just click the "Sign up" button in the right corner of the home page, fill in the required details and follow the further instructions.
For beginners Caesars offers a range of "Getting Started" videos covering all the basics of sports betting.
Caesars bonuses and promotions
Welcome bonus: $25 free bet

First deposit bonus: $300
Daily offers: ✓
Rolling bonuses: ✓
Do you need a bonus or a promo code for Caesars sportsbook?
Use bonus code PLAYFREE25 to get the no-deposit sign up bonus. You must follow the below steps to get a bonus,
Fill your details in the signup form and verify the location.

Verify your email.

After logging in, you will find all the games in the home "Casino Games" tab.
The free bet must be played within seven days. After signing up with the same code, the player can claim a 100 percent first deposit bonus of up to $300. In order to convert the bonus funds to unrestricted cash, within a week of receiving it, a bettor must either bet 10 times the amount of the bonus at slots or 25 times in other games.
Caesars VIP loyalty rewards:
Caesars offers VIP program cashback, the exchange rate is 100 per $1 which expires after 280 days.
Mobile Betting and Site Usability
Caesars' managers were clever enough not to release a completely new app. The company integrated sportsbook with the existing platform that got a massive update. It was a smart decision: Caesars needed to improve its software and at the same time eased the introduction of the new product for its old customers.
Caesars app review
iOS app: ✓
Android app: ✓
The bookie's website is not overload with information, the navigation is simple and everything is clear. The same can be applied to the company's app that is available for both iOS and Android. Caesars casino and sportsbook share the same wallet which is also very useful for some customers.
The download links for both apps can be found in a dedicated section of the web-site. iOS application can also be searched directly in the Apple store. Please note that the apps differ depending on the state you are residing in. In addition to the standard functionality both applications allow to fund, deposit and withdraw straight from your mobile account.
The iOS application is rated 2.4 out of 5.
The positive reviews highlight, "Integration with their other apps, one wallet so I don't need to worry about what I deposit in my casino or poker accounts". While negative reviews are mostly related to bonuses expiration. Here's a quick run down of the key review take-aways.
Speed: The app works at high-speed on compatible devices without any noticeable lag time.
Markets: All the markets available on the online version of Caesars Sportsbook are available via the app.
Bet Slip: The bet slip is functional and it's easy to minimize and restore the bet slip.
Support
Customer service works 24/7. You can contact them via phone, email or live chat. Caesars also presented on social media but keep in mind that there is no separate account for a sportsbook. Remember that you should be 21 or older to place bets. According to New Jersey laws, the bookmaker accepts only the bets that were made within the state's borders. Wagers on high school sports events and games of NJ-based college teams are prohibited.
Caesars shared wallet
Caesars' shared wallet significantly simplifies dealing with funds. In addition, having one wallet encourages players to try both the casino and the sportsbook. Players can easily access their wallet throughout the Caesars platform via both the app and the browser.
With all the above benefits, the only drawback of the shared wallet is that it does appear that the bonuses are still heavily favoring the casino portion.
Caesars sportsbook is very straightforward in its approach. Sometimes even too much. It focuses on its old user base and, probably, meets their expectations. But to get higher in sportsbook ratings the company needs to significantly improve its offer in many areas.
Caesars benefits for Casual bettors
Yet new and casual bettors like the platform thanks to its simplicity. The navigation aspect is smooth and comprehensive. Caesars offer many support options to newbies, along with a variety of educational videos in a dedicated web--site section.
Caesars benefits for experienced bettors
Caesars ticks some of the boxes for the experienced bettors as well. The cashier and betting functions are quick and efficient. During the use, we found odds that were right in range with the general market.
What is Caesars missing?
Caesars cover all of the basics but it lacks advanced bet types and niche sports. If you are after a basic bet on major games and events, you'll find it here. Whereas, if you are looking for live in game betting and numerous prop opportunities, you will have to continue searching.
Same can be said about the market selection. Bettors who are looking for the main events will have no troubles. But those who are looking for niche sports like, rugby or motorsports will have to move on.
Caesars sportsbook Pros & Cons
Pros:
Competitive betting odds

Continuous rolling bonuses and promotion for new and existing customers.

Smooth gameplay

Unified wallet
Cons:
Tight selection of sports

Limited live streaming

Niche sports not available

No in-play options
Read full review
Hide
Expert reviews
"With good deposit options and even a no-deposit bonus, the Caesars sports betting app is worth a try…"
"Caesars's app design and features lag behind some of those competitors…"
"An excellent online casino with 450+ games and an adequate sportsbook make Caesars a strong betting site but leaves some room for improvement…"
"Caesars is an experienced brand and sportsbook and is worth a look…"
NJ Gambling Sites Caesars
"Caesars is to be commended for quickly putting together this fine online and mobile sports betting platform…"
NJ Gambling Websites Caesars
"In terms of some things to work on, we would like to see the Caesars app improve the user experience…"
"Caesars remains one of the most trusted names in the US gambling industry…"
"Integration with the existing Caesars online casino is a sign of good things to come…"
"Caesars has a huge selection of deposit and withdrawal options…"
FAQ
No results were found for your request :(
Also ask
What's the age limit at Caesars sportsbook?
Do you have to be in New Jersey to bet?
How long does it take to withdraw winnings?
Do I need to submit personal information and documents?
What's the age limit at Caesars sportsbook?
Caesars sportsbook follows the same rules as traditional gambling. So, the age limit is 21 years old.
Do you have to be in New Jersey to bet?
According to the New Jersey Gaming Commission, all players must be physically located in New Jersey at the time of placing their bets. This is the law for every sportsbook available. But it's not necessary to be a resident of New Jersey to play the bet. Players can be visiting the state or simply passing through. The only need is to be physically present in a geographical location within the Garden State.
How long does it take to withdraw winnings?
Withdrawing time depends on the payment method you are using,
If you are withdrawing through ACH(Bank Transfer), it will take five business days.
If you are withdrawing through Paypal, it will take 3-4 business days.
If you are withdrawing through Bank Draft(check), it will take 5-8 business days.
If you are using the caesars Atlantic city cage, it will take up to 24 hours.
Do I need to submit personal information and documents?
Yes, Caesars sportsbook needs to collect ID and other personal details to very your age and identity.
What should I do if I feel I'm being overcharged?
In case of overcharging, please reach out to Customer Service.
All Frequently Asked Questions
Hide
Reference Information
Web-site:
www.caesarscasino.com/sports/
Licenced by:
New Jersey Division of Gaming Enforcement