Pointsbet Refer a Friend and Get a $50 Bet
Free Bets
Each referrer will receive a $50 Bonus Bet for each friend that is referred and successfully meets the requirement! Simply copy/share your unique link in the My Account Page & once they deposit at least $50, you will both receive $50 in Bonus Bets. T+C's apply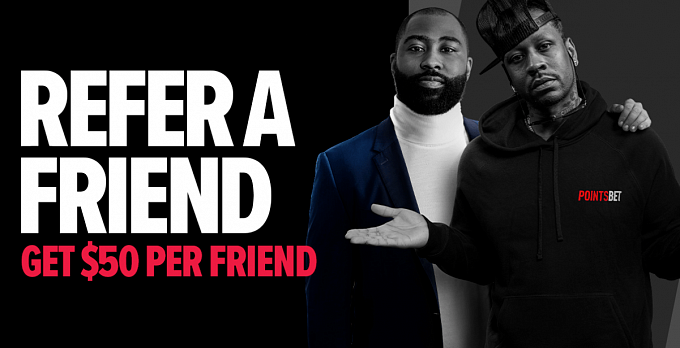 Claim Bonus!
Each referrer will receive a $50 Bonus Bet for each friend that is referred and successfully meets the requirements;
The referring member must have been a Member of PointsBet for a minimum of 14 days and must have: a betting history with PointsBet;
a registered New Jersey address;
deposited and turned over a total of $1000 or more;
and not hold a current negative balance;
Refer-a-Friend bonuses are triggered once referred friend deposits a minimum of $50 as per requirements described within;
PointsBet reserve the right to refuse a Refer-a-friend bonuses at its own discretion or if PointsBet deems the referred friend has violated any terms and conditions;
The maximum amount of refer-a-friend bonus is $2,500 per year per New Jersey Division of Gaming Enforcement rules;
Referred friend must deposit a minimum of $50 in one deposit (Not accumulated) to unlock the Referral Bonus for themselves and the referrer;
Please note that PointsBet reserves the right to restrict the amount of promotional offers given within a period of time to each customer. Standard PointsBet terms & conditions apply.
Claim Bonus!