PointsBet Parlay Refund
Free Bets
If Exactly 1 Leg Fails you on a 4+ Legs Parlay you get your money back up to $100!
Claim Bonus!
2
What should I do to be eligible for this offer?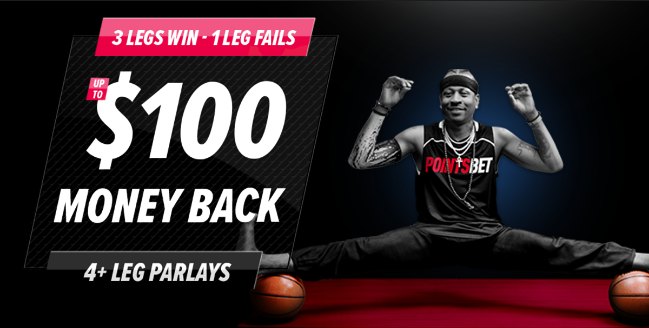 You must place a minimum of 4 legs;
Only Parlays with exactly 1 leg losing will be eligible for the promotion;
1 Parlay per day eligible for refund;
If multiple parlays are placed, your 1st parlay that qualifies will get refunded;
Each leg must be a minimum price of -500 to be eligible;
Total Parlay Price must be a minimum of +100.
Claim Bonus!
Refunds will be paid out in Bonus Bets within 24h of settlement of final leg;
This offer can not be used with a bonus bet;
Any parlay money back promotions will be void if a player has a bet on the opposite side of the same market;
Wagers on any Parlay Money Back promotion do not count as qualifying bets for the purpose of deposit or match bet bonuses;
Bets that do not meet the minimum number of legs, minimum total price, minimum or maximum stake amount are not eligible for the promotion;
Eligible players are entitled to a maximum 1 refund per 24 hour period;
No refund are payable for winning, cashed out, voided or cancelled parlays;
Bonus Bets are not withdrawable and can not be redeemed for cash.
This promotion is only available for players within state of New Jersey;
Player must be 21 or older;
PointsBet reserve the right to exclude any player from Parlay Refund Money Back promotions at any time;
PointsBet reserves the right to terminate an offer at any time without prior notification;
PointsBet reserves the right to restrict the amount of promotional offers given within a period of time to each customer;
Promotional Offers are not transferable;
Promotional Offers are not available to any employees in the wagering industry.
Claim Bonus!